VMware, a global reader in business infrastructure virtualization has done a tremendous job by bringing the cloud to your data center. A deep partnership between VMware and Dell has raised the second generation of VMware Cloud on Dell EMC that comes fully racked, stacked, licensed and preconfigured SDDC (Software-Defined Data Center). You say what you need, by making an order via the portal and wait for your Dell EMC rack to be delivered to your data center or edge location.
Hardware nodes comprise a standard, performant computer, storage and networking components. The server rack includes all you need to support your business, from redundant VeloCloud SD-WAN appliances used for remote management, redundant ToR (Top-of-rack) switches to connect the rack with your network, VxRail nodes, backup batteries and PDUs. VMC on Dell EMC clusters are built on hyper-converged infrastructure powered by VMware vSAN storage technology (data encryption included).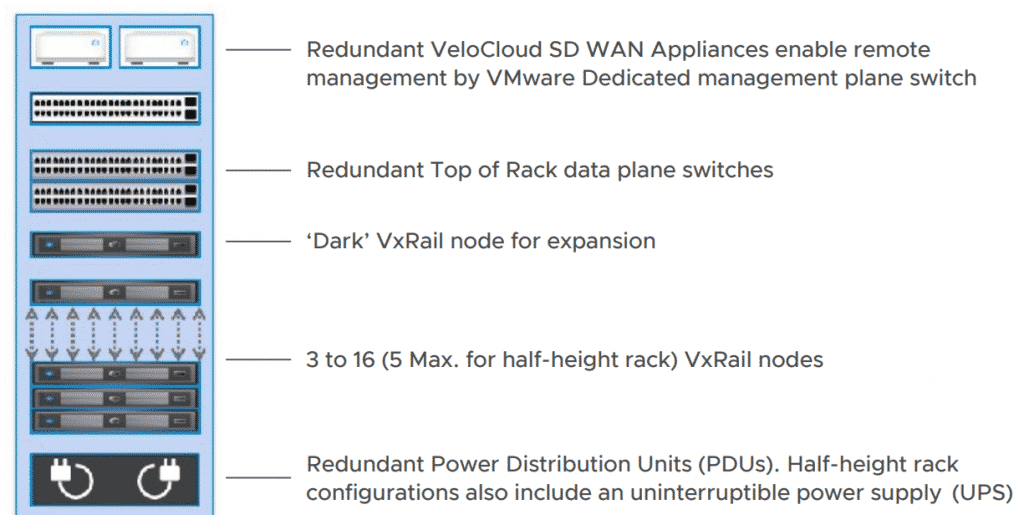 Have you ever thought about only focusing on your VMs, and vendors take care of underlying hardware and type 1 hypervisor? That is exactly what is provided through VMC on Dell EMC. VMware is responsible for the hardware and software lifecycle management and there is NO responsibility on your side in terms of patching and updating hardware firmware (BIOS, RAID, firmware, iDRAC, etc) and updating vSphere and Center. VMware keeps your infrastructure up-to-date with the latest cloud release (the same one as in VMWare Cloud in AWS), and you only focus on your VMs.
In case of software problems, VMware technicians will try to solve issues remotely by connecting via out-of-band management port or VeloCloud. If there are any physical problems, VMware technicians will come to your location and fix it accordingly. Hardware typically will be refreshed at the end of the hardware's practical lifespan, which is 5 years.
There are many other benefits of VMC on Dell EMC, from simplifying the management of your data center, built in enterprise security, unified management to modern hardware that is built to run within the VMware ecosystem. You can read more on the screenshot below.
The service has achieved compliance for SOC 2 Type 1, ISO 27001, ISO 27017, ISO 27018, and the Cloud Security Alliance (CSA) Star Security assessment. Go to VMware Cloud Trust Center to get the latest.
There are three steps you need to perform in order to get SDDC at your location. The first one is ordering and provisioning a server rack that can handle your business needs. The second step is connecting SDDC with your internal network and the third one is deploying your VMs via vCenter. Sounds easy, but how to get there? I`ll walk you through the procedure.
Step 1: Provisioning an SDDC
By using the VMware Cloud on Dell EMC portal you can order, connect and monitor your SDDC. During the procedure, you need to specify 5 required parameters as follows:
Name & Location – specify physical location details where you want to provision the SDDC. You will also need to specify the contact details responsible to coordinate installation with Dell.
Rack – choose between R1 (fits in small areas, best suited for small satellite data center or edge applications) and R2 (fits in enterprise infrastructures). The racks are fully equipped with computing, storage, networking and power.
Hosts – choose the configuration and number of hosts you need for the service. The following table provides specifications for the currently supported node types.
Network – specify network settings for VeloCloud, out-of-band management and SDDC management network, so equipment is ready from day 1.
Term commitment – choose the term commitment for your SDDC. SDDCs are sold in either a 1 or 3-year, reserved instance subscription period. Also, VMware gives you the option to use a 2-months pilot service (small fee included) before committing to 1 or 3 years. However, the longer term gives you better value. During this period VMware will take care of your hardware and software, you focus only on your VM.
With a couple of clicks, you order it on the way. Once the order is confirmed, it takes 4-6 weeks to factory built the infrastructure rack and dispatch the infrastructure with a deployment technician to the customer site for installation. In the meantime, you can monitor estimated delivery via the portal.
Step 2: Connecting to your network
VMware Cloud makes networking really easy. Once the SDDC ToR switches are physically connected to your data center infrastructure and SDDC is live, you can configure a (redundant) uplink connection between the SDDC ToR switches and your upstream network. This is required so that your SDDC can access your existing or new networks at your SDDC location. You may choose two or four uplink connections depending on the requirement of your bandwidth, (1 Gbps and 10 Gbps).
VMC on Dell EMC includes NSX-T, so all workloads connect to network segments. Once you create a network segment via the portal, it is immediately available via vCenter. Other than that you can also configure different network settings such as VPN, firewall, DNS, DHCP, IPFIX etc.
Note: The rack will arrive on-site fully cabled. However, to connect to ToR switches to your existing upstream network, make sure that you have copper or fiber cables and SFP adapters available onsite for your upstream network.
Step 3: Deploying a VM
In order to deploy a VM, you will need to login to vCenter that manages the SDDC. vCenter can be accessed either through a secure SD-WAN tunnel or internally via an internal network only. In case of changes, keep in mind that the DNS cache may take up to an hour to refresh and be available. You will be provided with the account that has all permissions you need to manage workloads.
Once everything is ready, you can access your vSphere or vCenter by having the exact same experience as you have with on-premise infrastructure. It is the same vCenter you know and love. Also, you can integrate your existing vCenter with SDDC using Hybrid Linked Mode.
Customers can focus on business, instead of on infrastructure. VMware takes of it. For the detailed overview and documentation, please check the VMware Cloud on Dell EMC.
Thank you for reading this article. In case of any questions, feel free to comment or contact me.