The new CompTIA Cloud+ CV0-003 is now officially available. Did you know that is the only cloud certificate approved by the US DoD (U.S. Department of Defense)? It is focused on multi-cloud and it validates the skills needed to deploy and automate secure cloud environments that support the high availability of business systems and data. I had the chance to get a CompTIA Cloud+ CV1-003 BETA exam voucher back in October 2020 for only $50 (the regular price is $338.00). The exam result arrived two weeks ago – I passed it and got my CompTIA Cloud+ and Cloud Admin Professional.
In this article, I´ll share a brief overview of the exam and give you some insights that helped me to prepare for the exam, even without official or any available study guides. In addition, you will also learn how to take CompTIA exam online from the comfort of your home.
EXAM OVERVIEW
The new CompTIA Cloud+ covers in greater depth the skills and abilities needed to operate in the cloud, validating that candidates have the technical experience needed to deploy, secure, and automate environments regardless of the vendor solution (AWS, Azure, GCP or others). It has 90 multiple choice and performance-based questions and it gives you 90 minutes to finish it.
You will need 750 out of 900 score points to pass the exam. If you do so, you will get an official certificate valid for 3 years. Currently, it is only available in English, Japanese will probably come later. You don't need to commute to the nearest testing center, but you can take the exam from the comfort of your home via the Pearson VUE. I have been doing it since COVID-19 has started and I've had a great experience. You can check my article Online Proctoring via Pearson VUE: The Era of Online IT Exams and learn how to prepare for your first online exam.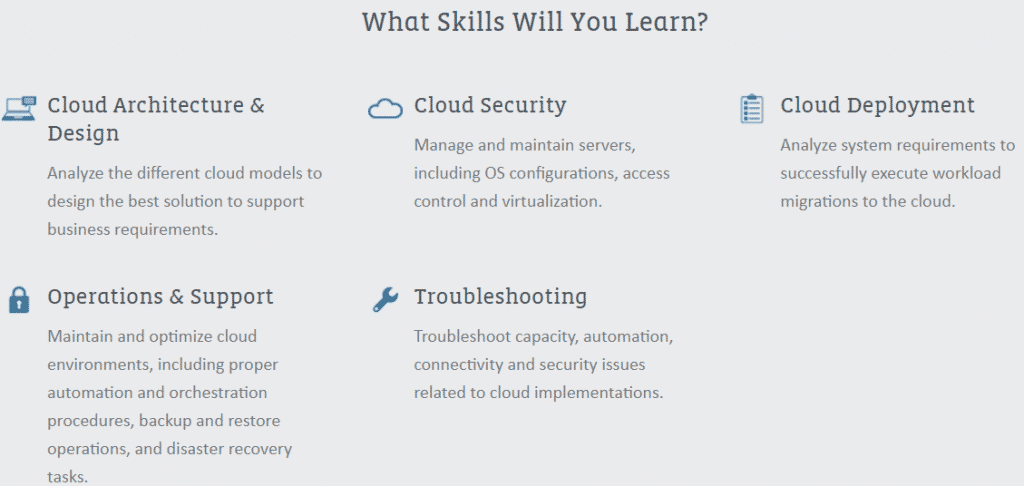 It measures all the cloud skills from deployment, maintenance to troubleshooting. The skills measured are:
Configuration and Deployment – Analyze system requirements to successfully execute workload migrations to the cloud (IaaS, SaaS, PaaS, XaaS).
Management – Determine proper allocation of cloud resources and apply necessary changes, based on performance data.
Maintenance – Apply appropriate technologies and processes, including automation and orchestration, to ensure desired system performance.
Security – Implement appropriate security controls given requirements.
Troubleshooting – Troubleshoot capacity, automation, connectivity and security issues related to cloud implementations.
FIRST-HAND TIPS
According to CompTIA, it is recommended to have at least 5 years of IT experience, including 2 to 3 years of experience with system and network administration. This is really true and I'd recommend you studying Network+ and Server+ before Cloud+, because in the exam you will see many topics about servers, networking, storage, virtualization and virtual machines. All the on-premise knowledge you have will help you to better understand and position cloud technologies. Please note this is not mandatory but recommended.
As CompTIA is vendor-neutral, I would also recommend you to create free subscription accounts for three major cloud providers (AWS, Azure, Google Cloud) and play with basics, e.g. creating virtual machines. For AWS you can find instructions on how to create an EC2 instance HERE, for Azure you can read it HERE, and for Google Cloud please check HERE.
I went through the old Cloud+ (CV0-002) training provided by Mike Meyers and the Total Seminars Team and I read a study guide written by Todd Montgomery and Stephen Olson. Both training, videos and book were developed for the CV0-002, but they helped me to understand the topics required by CompTIA and pass the exam.
CompTIA also offers everything you need to get you ready for your Cloud+ certification exam. I have never used official CompTIA study material, but I guess it is worth a try. Their exams go in hand with their official study guides. You can check the free samples on this LINK.
There are also a lot of study guides and useful posts on the Internet and I leave it up to you to research it. If you stick with things I shared with you, you might pass the exam.
If you think this article is useful and it can be useful to other IT folks, please feel free to share it via the social media buttons below. In case of any questions, feel free to comment or contact me.