If you would like to start your cloud journey, the easiest way is to do it by learning fundamentals through official vendor training or self-learning. A self-learning will require purchasing proper courses and books, AND also having experienced mentor to lead you through the cloud storm.
When it comes to Microsoft Azure cloud, your starting point should be AZ-900 training/exam, known also as Microsoft Azure Fundamentals. Candidates for this exam should have a foundational knowledge of cloud concepts, core Azure services, Azure pricing, SLA, and lifecycle, and the fundamentals of cloud security, privacy, compliance, and trust.
"In order to understand cloud, candidates SHOULD BE ALSO familiar with general technology concepts, including concepts of networking, storage, compute, application support, and application development."

MICROSOFT
Exam AZ-900 has five modules as following:
Describe cloud concepts (20-25%)
Describe core Azure services (15-20%)
Describe core solutions and management tools on Azure (10-15%)
Describe general security and network security features (10-15%)
Describe identity, governance, privacy, and compliance features (20-25%)
Describe Azure cost management and Service Level Agreements (10-15%)
The exam outline is available on this LINK. The costs are from 55 USD/EUR to 99 USD/EUR depending on the country.
HOW TO PREPARE?
There are dozens of training courses available on the Internet. Some of them can be accessed for free and some are payable. I'll share with you a few resources you might want to use. I recommend combining at least two sources.
Microsoft Learn is a free, interactive, hands-on platform that helps IT Professionals to develop technical Azure fundamentals and other technical skills. AZ-900 covers all six modules and it also includes 1-2 hours of hands-on labs. You can access it HERE.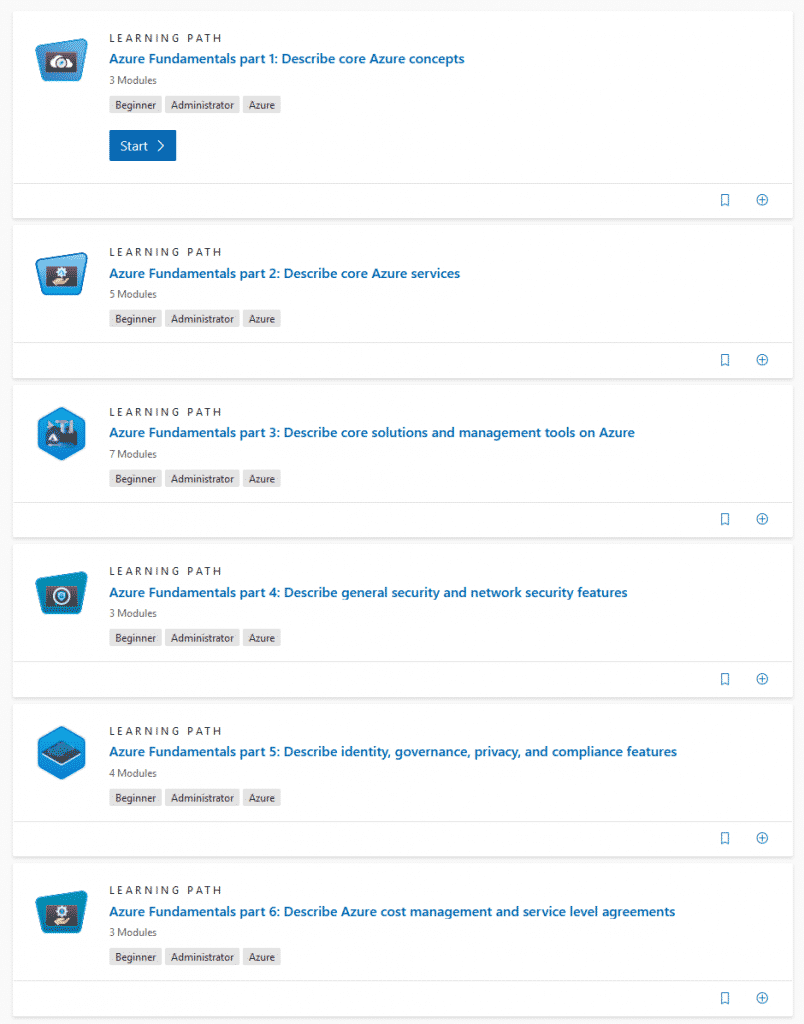 AzureEzy/AzureTalk is one the largest's IM based Microsoft Azure cloud community with more than 6k+ members+. You can access the latest AZ-900 course on their YouTube channel.
CloudSkills.io – provides great podcasts about Azure, but also different Azure training courses. I recommend subscribing to the YouTube channel.
K21Academy was one of the sources I used to learn the cloud. They provided 6 hours of live training with Azure trainer, 1-year access to training material and 24/ support. I recently learned that they don't give live training anymore, but only self-study. Please double check with K21 Academy.
Before starting training, you should create your Azure free account. You will get 12 months of popular free services, 200 USD credits to explore Azure for 30 days, and 25 services that are always free. You can register on this LINK.
Exam Questionnaire
According to Microsoft, AZ-900 has 40-60 questions and you have 60 minutes. When I did AZ-900, I only got 32 questions and 60 minutes. If you go through the sources I mentioned above, you will be able to finish and pass the exam within 30 minutes. The passing score is 700/1000.
There are different types of questions, single and multiple choice answers, performance-based answers and drag and drop. For some questions, you cannot go back or you cannot review them at the end of the exam.
Schedule the AZ-900
You can take the exam at the Certified Pearson VUE Testing Center or online. Thanks to Pearson VUE, we can take dozens of different exams online such as Microsoft, Cisco, VMware, Citrix, CompTIA, and many others. I wrote an article that explains the procedure from scheduling to taking the exam. If you'd like to learn more, please check my article Online Proctoring via Pearson VUE: The Era of Online IT Exams.
…and don't stop with AZ-900. Continue your journey.
Thank you for reading this article. In case of any questions, feel free to comment or contact me.