I use Intel NUC in my lab environment to test different workloads and produce technical article; as this one. I recently published an article about Build up your home lab using Intel NUCs. You can find there different information about Intel NUC.
Intel NUC supports Windows 10 and Windows 11 and it provides you with corresponding drivers for different hardware components. They work fine and nothing is missing.
If you want to install and use Windows Server, you will face some challenges with the Ethernet adapter. There is no dedicated Ethernet driver for Windows Server, hence your network connection doesn't work.
In this article, I'll enable you to run Windows Server or Hyper-V on your Intel NUC without network driver problems.
Step 1: Download driver
In the first step, you need to download proper driver for your Ethernet adapter. As mentioned, there is no dedicated driver for Windows Server 2022, and you need to use one created for OS independent.
I installed it and use it for several weeks without any problems. You can download driver here Intel® Ethernet Adapter Complete Driver Pack. The driver is tested on Windows Server 2019 and Windows Server 2022. It works like a charm.
Once you download it, copy it to and extract it to your Intel NUC machine.
Step 2: Install Ethernet driver
It's a time to make Ping happy. Let's install Ethernet driver.
Open Device Manager and expand other devices.
Right click on Ethernet Controller and click Update driver.
Select Let me pick from a list of available drivers on my computer and click Next.
Select Network adapters and click Next.
Click Have Disk…
Select drivers you previously downloaded and click OK. Once you extract your file, you need to navigate to *\PRO1000\Winx64\W2022\*.sys.
Select Intel(R) l210 Gigabit Network Connection and click Next.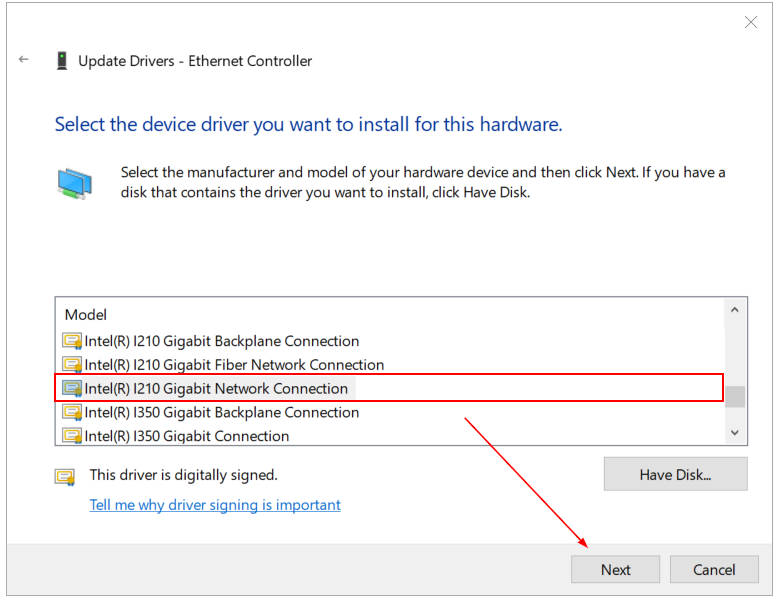 Click Yes to confirm updating driver.
Windows has successfully updated your drivers. Click Close. You will notice that your Intel NUC is connected to your network
You are online. Don't forget to share this article with your network.
If asked, restart your PC to finish setting up the device.